Dr Ana Laura Santos and Prof. Barrie Johnson were given the 'Best Poster' Award for their research in mineral bioprocessing. The prize was awarded during the 23rd International Biohydrometallurgy Symposium (IBS) that took place on 20-23 October 2019 in Fukuoka, Japan. (AS, Bangor, 11/12/2019)
The 23rd International Biohydrometallurgy Symposium (IBS) took place on 20-23 October 2019 at the Centre of International, Cultural and Information Exchange – ACROS Fukuoka, Fukuoka, Japan. IBS is a biannual international conference which focus on all aspects of biohydrometallurgy, bioremediation, microbial ecology and biogeochemistry. Since 1977, this symposium has promoted the best platform for interaction between academics, students, researchers, practitioners and industry from all over the world. The 2019 edition upheld the slogan "Biohydrometallurgy for resources, energy and environment towards the future Earth" and included 15 keynote talks, 50 oral presentations and over 150 posters. The award ceremony was held on the last day of the conference and prizes were given to both oral and poster presentations.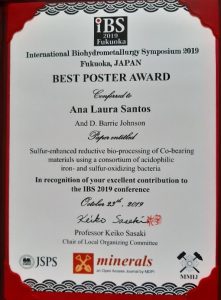 The awarded poster (see below) entitled "Sulfur-enhanced reductive bioprocessing of Co-bearing materials using a consortium of acidophilic iron- and sulfur-oxidizing bacteria" presented the work carried out at Bangor University, UK, as part of the CROCODILE project, which focused on the development of a novel reductive bioprocessing technology for extraction and recovery of cobalt from limonitic laterites which are a large and mostly unexploited cobalt resource found in tropical and subtropical areas. In brief, this technology involved the use of acidophilic bacteria that catalyse the reductive dissolution of oxidised minerals present in ores and concentrates using stirred tank bioreactors. This environmentally benign alternative approach can be used to extract metals, such as nickel, cobalt and manganese from oxidized ores and also waste materials such as tailings and processing residues.
Biography Dr Ana Laura Santos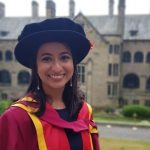 Dr Ana Laura Santos is a Research Officer working with Prof. D. Barrie Johnson at the Bangor Acidophile Research Team, Bangor University, UK. PhD in Biological Sciences, Dr Santos joined the CROCODILE project in 2018 to investigate the development of a novel mineral bioprocessing technology for cobalt extraction. Her research interests are focused on bioleaching of sulfide/oxide minerals and bioremediation of metal-contaminated waters and acid mine drainage.