The EU project "CROCODILE – first of a kind commercial Compact system for the efficient Recovery Of Cobalt Designed with novel Integrated Leading technologies" organised a session on Cobalt recovery during the conference 'Going Green – CARE INNOVATION 2018' on November 28, 2018 in Vienna (Austria). (Bernd Kopacek, Vienna, 11.12.2018)
The session was well attended by the most prominent recyclers in Europe (e.g. Immark, Indumetal Recycling, SIMS, Umicore, EERA, …), collective systems (e.g. ERP, RLG, …), universities and consultants. Permanently about 60-70 experts were in the room, but as some people switched between the sessions, CROCODILE reached more than 100 persons in total.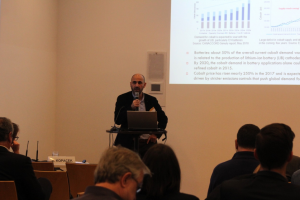 Serena Sgarioto from Relight and Nader Akil from PNO Innovation presented the state-of-the-art and future plans on supply issues, Valentin Stein from Saubermacher possible pre-treatment technologies, CROCODILE coordinator from Tecnalia Amal Siriwirdana integrated chemical treatment processes and finally Ludovica Baldassari from EcoRecycling the mobile plant. Finally Toni Pijoan from Tecnalia gave a first outlook on the business case.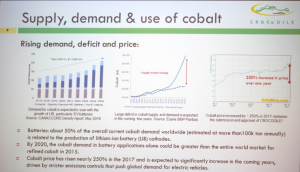 After the presentations there Bernd Kopacek from ISL chaired the lively discussion on the future plans of the CROCODILE project. Christian Hagelueken from Umicore highlighted for example the huge increase of Cobalt needed for e-mobility in the coming years. Miha Zakotnik from Urban Mining Company in the US mentioned potential other sources of Cobalt, such as certain types magnets and offered his cooperation.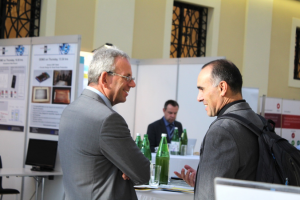 Finally CROCODILE also had a poster and flyers on display during the poster session.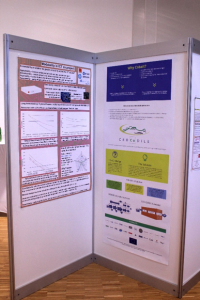 Going Green – CARE INNOVATION 2018 conference and exhibition on Electronics and the Environment took place in the Schoenbrunn Palace Conference Centre Vienna(Austria), which is situated in the Apothecaries' Wing of the famous building. More than 450 experts from 37 European, Asian, American and African countries attended, more than 70% from industry.
Please find more information at our websites https://h2020-crocodile.eu/ and http://ci2018.care-electronics.net/.