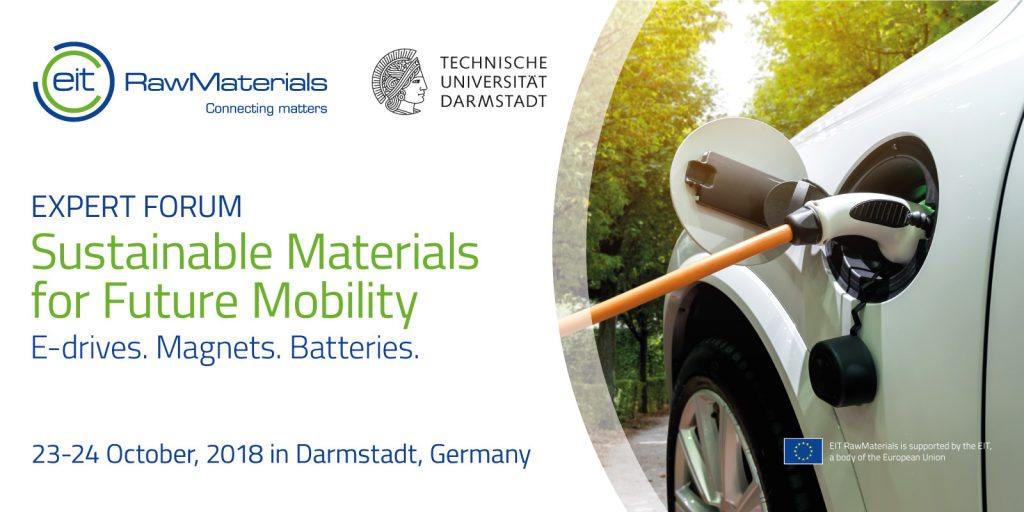 Under the umbrella of the European Battery Alliance (EBA), EIT RawMaterials and its partner TU Darmstadt organise a 2-days workshop on Sustainable Materials for Future Mobility: E-drives. Magnets. Batteries, which will take place on 23-24 October 2018 in Darmstadt, Germany.
The workshop is a next step in implementing some of the action points raised in the EBA Action Plan and the Commissions Strategic Plan on Batteries; that is, to create fertile grounds for the creation of cross-value chain alliances, define and implement demonstration projects, and define an agenda towards sustainable battery technology. On the second day, the related subject of magnets and e-drives is looked into.
Representatives from industry, academia, and research organisations working in the field of strategic and critical raw materials for electrification are cordially invited. Participation of representatives of the following organisations has been confirmed: Finnish Minerals Group, Savannah Resources, Umicore, Bühler Redex, Transport & Environment, Leading Edge Materials, Lynas, Fraunhofer, Uppsala University, and Vacuumschmelze.
Preliminary program
Day 1: European Battery Alliance. State of Play and Funding Tools; Sustainable Materials for Future Mobility (Market Needs etc.); Battery Raw Materials. Exploration, Mining, Extraction, Recycling; Advanced Battery Materials; Sustainable Batteries; Breakout Sessions; Dinner; Satellite Workshop on Materials by Design organised by Uppsala University.
Day 2: Rare Earths: Exploration, Mining, Extraction, Recycling; High Performance Permanent Magnets; Permanent Magnet Drives and Cooling Machines; Breakout Sessions; Closing Remarks.
Workshop Registration: Please visit the event website and register until 22 September, 2018, attendance is free of charge.
For more information: