Website: www.relightitalia.it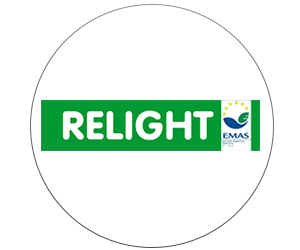 Relight is a private company founded in 1999 for the collection and treatment of waste from electrical and electronic equipment (WEEE). Main customers are collective schemes, communities and private companies.
The integrated approach of Relight, that both provides collection and full treatment of waste, gives the customers an efficient service where all the steps are controlled and performed at high quality level (Relight is ISO14001 certificated and EMAS registered since 2005).
Since the beginning the main aim of Relight activities is to close the loop and find solutions for the recycling of the different fractions that constitute a WEEE, trying to reach the "end of waste" status also for critical materials.
Relight innovative approach is addressed both to new treatment technologies and to new recycling field for waste fractions.