Website: www.nikkelverk.no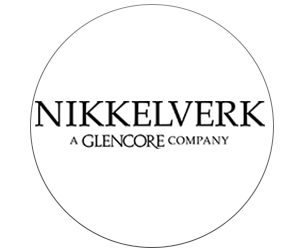 Glencore Nikkelverk AS which falls under the nickel division of the Glencore business unit 'Metals and Minerals' is one of the world's largest nickel refineries. It produces high purity nickel with copper, cobalt, sulphuric acid and some precious metals as by-products.
Nikkelverk was established in 1910. It is located in Kristiansand, Norway and currently employs advanced technological and manufacturing processes with a competent and innovative workforce of 580 people. (515 male and 65 female). Its ability to develop and maintain cutting edge technology is what keeps it at the forefront of the industry. Nikkelverk is revised and audited by "Det Norske Veritas" (DV) for : ISO 9001, ISO 14001, OHSAS 18001 and ISO 50001.
Nikkelverk produced 3500 MT cobalt metall by electrowinning in 2016. The capacity is 5000 MT Co pr year.
Most of the cobalt feed to Nikkelverk comes from matte which is produced by Glencore in Canada. The cobalt in the Glencore matte is primary cobalt pluss a significant amount of recycled cobalt from western countries. In addition Nikkelverk process nickel matte from other 3rd parties, which also contains some cobalt. Nikkelverk can also to produce cobalt from industrial intermediates such as oxides, sulphides, hydrosides etc. This volumes varies, but urban mined cobalt may fit with this process route.