Website: www.lomartov-aie.com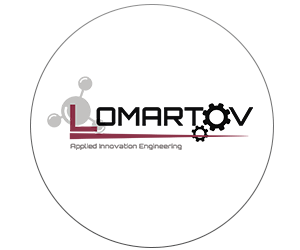 LOMARTOV S.L Applied Innovation Engineering, (VAT: ES B98896137 NIF: B98896137 ) is a SME-EBT (technologically based enterprise) arising after the clustering of three spin-offs. LOMARTOV carries out activity in 5 main areas: (1) Advanced Nuclear Engineering, Nuclear Safety and Civil Society protection, integrating its own registered packet of solutions (RADONSECURE® ) for Radon safety protection of civil society; (2) Materials engineering and materials modelling; (3) Innovation catalysis; (4) Sustainable solutions; (5) Nanotechnology and health in an international joint venture together with Nanofaber (www.nanofaber.com), developing and commercializing Multiphase hybrid nanoscale fibers, including solutions for advanced tissue regeneration and biocompatible scaffolds, and Bionanoparticles (photonic/magnetic).
LOMARTOV offers advanced engineering solutions, including advanced systems engineering design and components integration. This activity is reinforced by the dilate experience of the staff in materials science, offering services and implementing solutions based on the innovation of new materials, supported by integrating computational engineering and multiscale materials modelling. LOMARTOV innova joins experts in innovation catalysis with key experience in policy development, social acceptance, and regional development strategy (including smart specialization strategy definition and implementation). Our long history as professionals engaging international industry, makes us the ideal partner to cluster activities, initiatives or associations and to disseminate actions towards both the civil society and industry.
LOMARTOV also offers services assessing industrial resource efficiency management, eco-design and land design (sustainable mining, circular economy, eco-designed buildings and cities). By means of its division of sustainable solutions, LOMARTOV offers professional solutions and tools for Life Cycle Assessment (LCA), Life Cycle Cost Analysis (LCC), Social Life Cycle Assessment (SLCA), eco-design, environmental communications and regulatory compliance to private companies and business associations. The mission of Sustainable Solutions Team of LOMARTOV is to support companies and organizations in improving and communicating their environmental, economic and social sustainability. Our core business is to provide highly qualified consultancy services, through our interdisciplinary team consisting of experienced environmental engineers and LCA practitioners. With a clear international projection strategy, we are directly linked to the European Innovation Partnership in Raw Materials (EIP-Raw Materials) by taking part in two different Action Groups/commitments (1.8 SUBSTEXTREME, RAWNANOVALUE) within the EIP-Raw Materials. LOMARTOV is also an active member of the COST action CRM_EXTREME, working on the importance of critical raw materials over the manufacturing, energy production, and aerospace value chains.