Website: www.larco.gr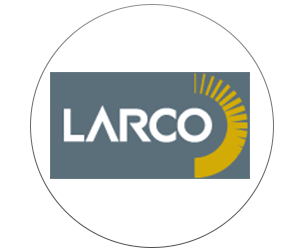 G.M.M. S.A. LARCO is one of the Greece premier industries and a major European producer of ferronickel. Its operation has been based on its own know-how technology, a patent novel application. Today with an over fifty years maturity and experience all research and development activities and studies directed to strengthen and expand the Company's process technology base.
LARCO is focusing on realizing its full potential by improving productivity and reducing costs, developing new Mines and production facilities, managing its resources in a way that protects the environment and foresters safety.
This strategy -combined with interventions in the power sector allowing the Company to strengthen its position as a reliable producer in the highly competitive Nickel market environment.
The whole FeNi production is being exported.
Since 1966 LARCO is in continuous operation selling FeNi to western countries and mainly EU countries.
LARCO's activities are of strategic significance to the Greek Economy. Attributes per 1.5% to the Gross Domestic Product (GDP) which, theoretically, is translated into occupation of approx. 25.000 people.
The experts of the company's products correspond to the 2.0% of the total exports of Greece.
All major European stainless steel producers, such us KRUPP THYSSEN NIROSTA, AVESTA SHEFFIELD, OUTOKUMPU, ACCIAI SPECIALI TERNI, ACERINOX, APERAM etc. have used LARCO's FeNi granules in their mills.